The Launch of an Industry Leader
In 1945, Luke Deubler and Dick Linn founded the company that would revolutionize the way rotating equipment operates and performs. Combining their last names, they called the new venture Deublin Company. Its first offering would be an innovative rotating union design that incorporated balanced mechanical seals.
At the time, the most popular type of sealing mechanism was a pressure-type seal. These seals relied on system pressure to keep wearing surfaces mated, which was proving to be problematic as equipment speeds increased. Printing presses, in particular, were vulnerable to rapid wear of the pressure-type seals.
Luke saw an opportunity to improve on the industry standard, and the resulting design was an immediate success. By engineering a mechanical seal into a rotating union, Luke propelled the company to the forefront of the industry and sparked the growth of Deublin Company that continues even today.
Setting a New Standard
In addition to printing presses, Luke went on to design unions for a wide variety of applications, including air clutches, gear boxes, machine tool spindles, textile equipment, continuous casting machines, paper machine calenders and rubber-manufacturing machinery.
The designs proved to be so effective and reliable that virtually any industry that needed to transmit air, water, oil or hydraulic fluid from a stationary source into a rotating part of their equipment used Deublin products to do so.
A few years into the company's successful start, Dick decided to focus on a different line of business. He sold his shares to Luke, leaving him as the sole owner.
Expanding Abroad
Manufacturing companies thrived in the post-World War II economy, and Deublin was no exception. Throughout the 1950s and 1960s, the company experienced steady growth — and it wasn't long before Luke began to look abroad for new opportunities, as well.
Despite strained relations between the U.S. and Japan following the war, Luke saw great potential for his products in the Japanese market. He traveled overseas in the late 1960s to explore the markets there and in Germany, where he established his first international subsidiary, Deublin GmbH, in 1969. Deublin Ltd in England was next, followed shortly thereafter by Nippon Deublin in Japan, established in 1972 and 1977, respectively.
The foreign subsidiaries not only expanded the company's reach, they also gave Deublin a significant competitive advantage going forward. When imports started to flood the North American market a few years later, many of those products would already be equipped with Deublin unions.
The company growth continued through the 1980s. In 1989, Deublin acquired SINT, an Italian company that engineered steam joint and siphon systems for high-speed machines. Though similar technology was available from machine suppliers, an independent supplier of a joint with a balanced mechanical seal and stationary siphon system did not yet exist.
Today, Deublin has 13 wholly-owned subsidiaries worldwide. In addition to Germany, England and Japan, the company also operates in Italy, France, Korea, Spain, Mexico, Brazil, Poland, Austria, Singapore, and China.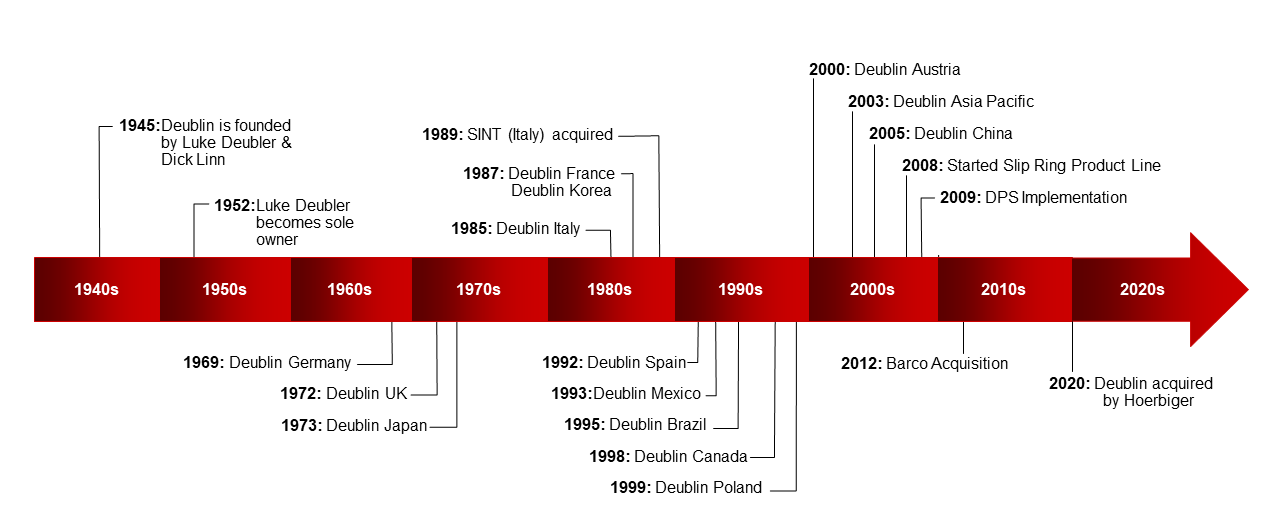 Growing Back Home
Deublin's rotating union business has never slowed for a second.
In December 1992, Deublin moved into its new 120,000 sq. ft. world headquarters in Waukegan, Illinois. Three times larger than the previous facility, the award-winning, ISO 9001-certified manufacturing plant was designed to accommodate administration, sales, marketing, engineering, manufacturing, research and development, and training.
Despite planning for ten years of growth, the new plant hit capacity in just six. In 1997, Deublin increased the manufacturing floor space by 65% to accommodate explosive sales in all sectors.
Luke Deubler passed away in August of 1993, and his son Donald L. Deubler succeeded him as chairman of the board. Luke's life and business philosophy can be summarized by three of his favorite sayings:
"Sell unions."
"Do unto others as you would have them do unto you."
"We haven't started yet."
A New Chapter for Deublin
After 74 years as a family-owned company, Deublin was acquired in 2019 by Hoerbiger Group, a privately-held industrial company headquartered in Switzerland. Like Deublin, Hoerbiger started as a family-owned firm. Our shared values – mission-critical industrial solutions that are second to none, strong commitments to employees, and strong relationships with customers – brought the two companies together. Today, Hoerbiger has nearly 7,000 employees in more than 50 countries around the world.