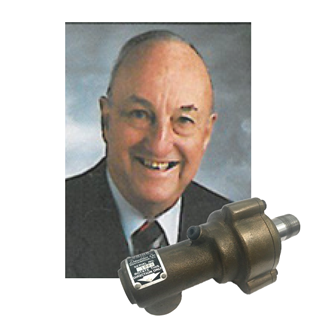 Decades of Innovation
Deublin is the world's leading manufacturer of Rotary Unions. In 1955, Deublin received its first of many patents for the unique balanced mechanical seal design that changed the industry.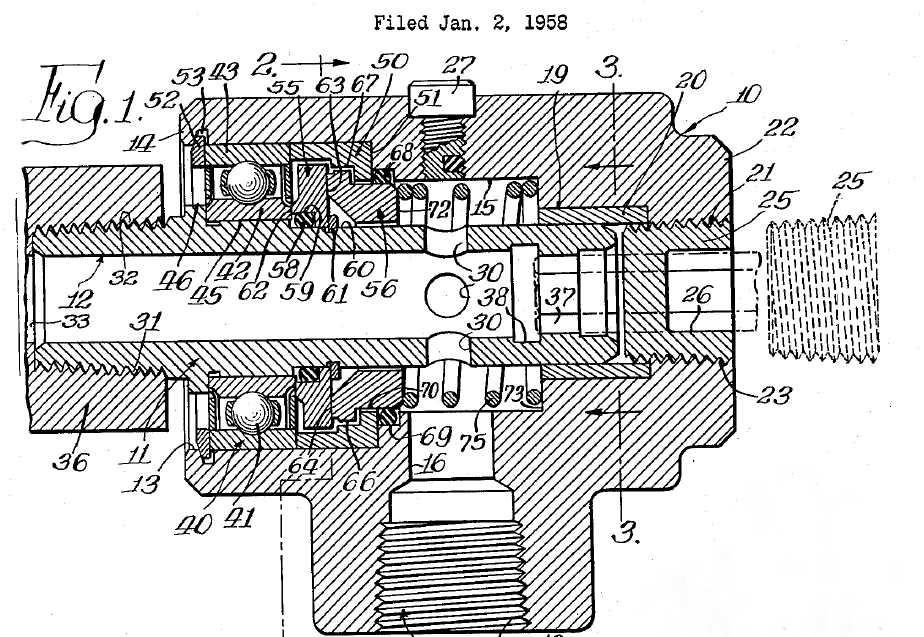 Ease of Use
Three years later, company founder Luke Deubler filed a patent application for a rotating union that could be installed more easily in small or cramped spaces. This focus on customer needs became a central part of Deublin's culture, and the patent was granted.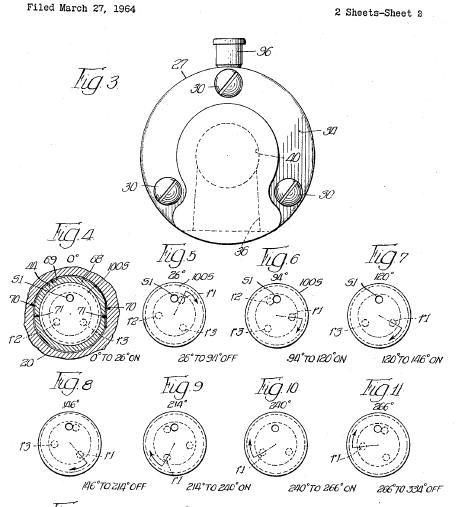 Practical and Economic Solutions
In the mid-1960s, Deublin patented the rotating union control valve as a means to synchronize jets of compressed air without a complex and expensive valve system. Precisely synchronized puffs of air were used to remove products from a manufacturing line, to pack products into cartons, and other applications.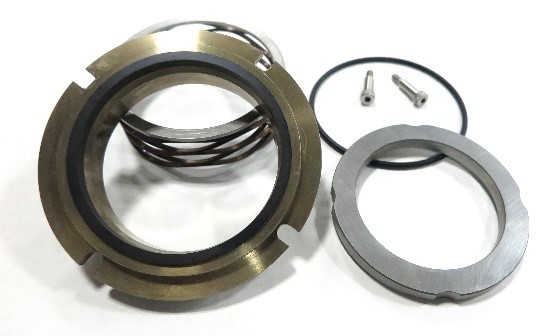 Ease of Maintenance
Deublin pioneered and patented the concept of Rotary Unions with seals that could be replaced easily in the field, using standard tools and skills.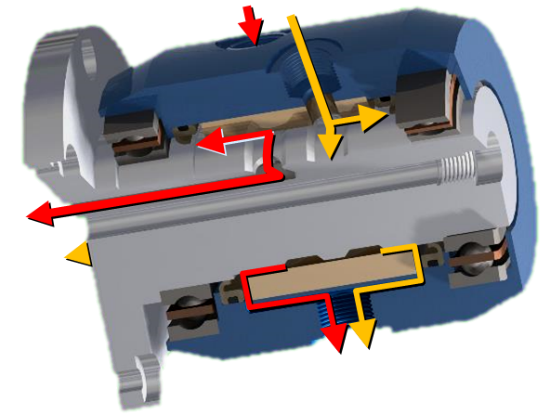 Contact Free Sealing
To extend service life and eliminate seal wear, Deublin patented Rotary Unions using labyrinthine or hydrostatic sealing. The medium to be sealed, such as hydraulic oil, performs the bearing function and removes heat generated during rotation. The design is deceptively simple: careful engineering and machining are needed to achieve optimal performance and reliability.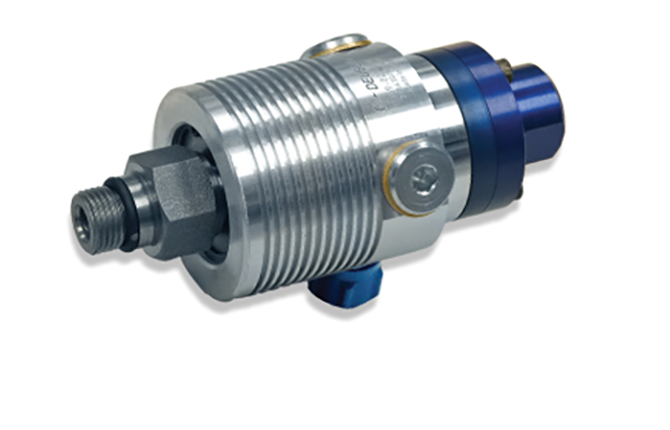 Wet and Dry Machining Without Limits
In low-RPM applications, mechanical seals can run "dry" – without any media or external lubrication – for quite a while. As RPM increases, dry running causes seals to heat up and become damaged, quickly. Or it did, until Deublin invented "Pop-Off®" technology used in Deublin's 1109 series and other products. Imitated but never equaled, Deublin Pop-Off® seals close when coolant pressure is turned on, but separate when through-spindle coolant is not being used.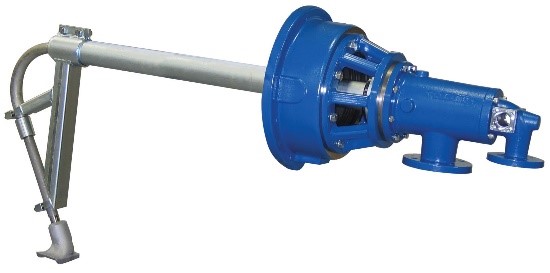 Condensate Removal
Deublin revolutionized the paper industry by developing reliable, externally adjustable stationary siphon technology for removing condensate from the dryer sections of high-speed paper machines. With more than 17,000 successful installations world-wide, Deublin stationary siphon systems have become the system of choice with many of the world's most productive papermakers.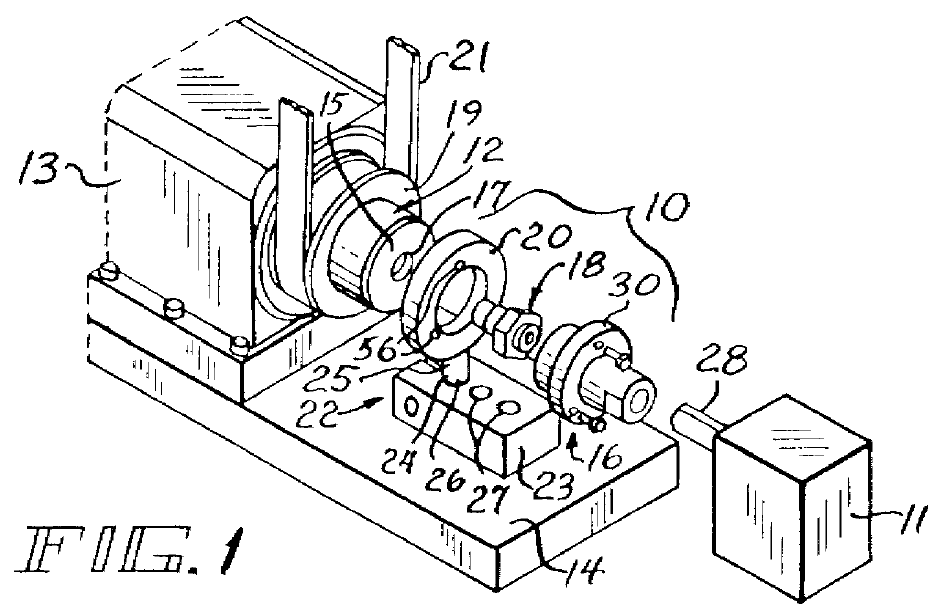 Bearingless
Pop-Off®
Deublin's innovative Pop-Off® seal technology increased service life and machine up time by eliminating seal wear due to dry running. Bearingless coolant unions, patented by Deublin, provided a further increase in reliability. Creating reliable rotary sealing without ball or roller bearings removed a wearing component as well as a rotational speed limited. Today, Deublin bearingless unions are readily available for 40,000 rpm and more.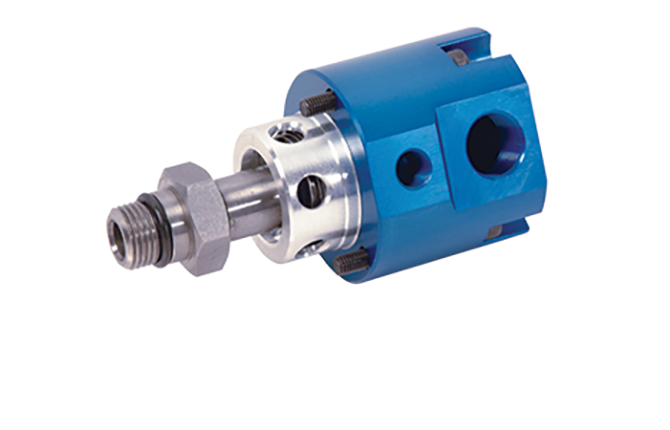 All-Media Sealing
Certain workpiece materials and cutting tool coatings perform better with pressurized dry air than with conventional metalworking fluids. Air through the spindle prevents chip re-cutting, but high-speed dry running can lead to seal damage. Responding to this challenge, Deublin created and patented All-Media sealing technology. A separate "actuation port" triggers these 1139-series unions to create a contact-free micro-gap between the seals, preventing seal wear and overheating with dry air, even at 30,000 rpm.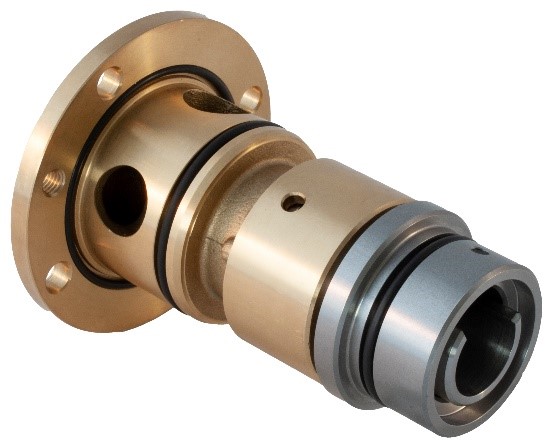 Continuous Casting
Steel strands travel on rotating cylinders, or "rolls", during the manufacturing process, and these rolls are cooled internally with water to dissipate heat from the freshly poured steel. Rotary Unions convey the water in and out of the rolls, but the supply and return hoses are exposed to the extreme heat of the steel-making process. In collaboration with industry leaders, Deublin devised a way to mount the non-rotating side of the union within the casting machine. This patented design absorbs forces from the rolls, as well as misalignment between fixed and rotating side, while sealing reliably for multiple steel production campaigns.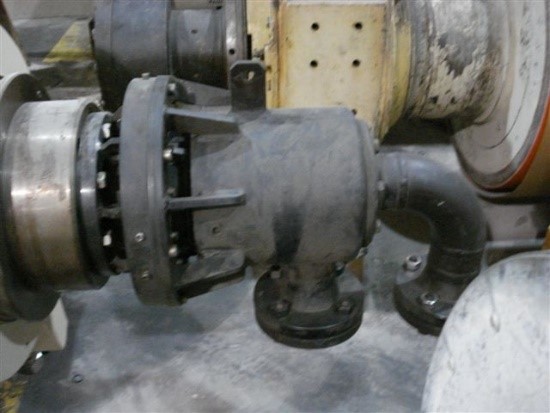 Heat Transfer without High Cost
Certain manufacturing processes require rolling cylinders to be heated beyond 200°C (400°F) using heat-transfer fluid or thermal oil. Ball bearings, used to maintain alignment between rotating and non-rotating components, cannot operate at such temperatures, so expensive, additional cooling equipment can be required. Deublin patented a rotating union design that uses mechanical seals and a special bearing configuration to eliminate the need for auxiliary cooling equipment.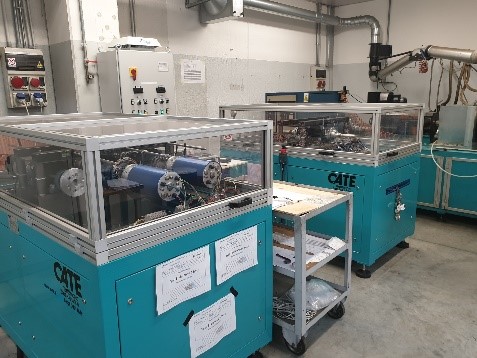 Innovations in Seal Design
Deublin's R&D facilities include more than 100 test spindles used to develop and validate new product designs. Using this equipment, Deublin developed a novel "hybrid combination" of seal dimensions, tolerances and materials that has been shown, through extensive testing and subsequent customer experience, to provide a significant increase in seal life even under difficult operating conditions.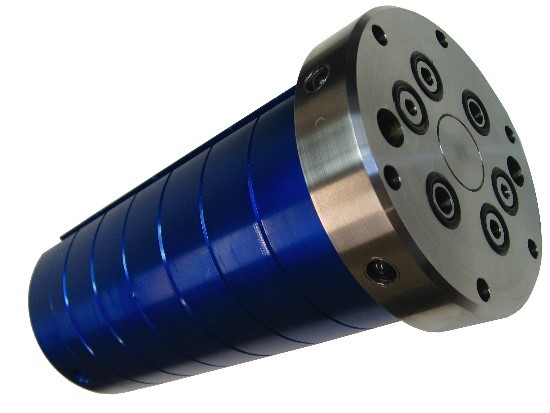 High-Speed C-Axis
Five-axis machining conveys many advantages, such as fewer setups and ability to mill more complex shapes. One disadvantage, until recently, has been elastomer dynamic seals inside the rotary index table. These seals limit the C-axis to slow or intermittent rotation.
In response to requests from machine OEMs, Deublin introduced compact rotary unions with up to 8 passages. These unions use balanced mechanical seals to handle many combinations of media – hydraulic oil for clamping, air for workpiece sensing, and coolant for chip removal – at speeds up to 10,000 rpm.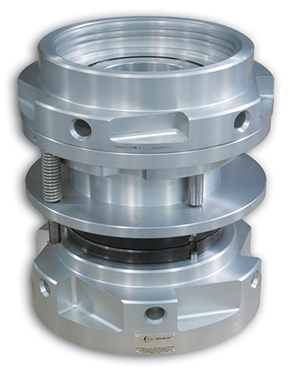 Washpipe Swivel
Oil drilling rigs pump "drilling mud" – an abrasive mixture of sand, clay, and other materials – into the rotating drill string at pressures of 5,000 psi or even higher. Deublin's groundbreaking solution has been field-proven to last 20 times longer than conventional packing swivels, while producing less heat and less torque. When the seal finally become worn, they can be swapped on the top drive in 15 minutes, further increasing rig productivity. This patented design is available in 3" and 4" bore diameters.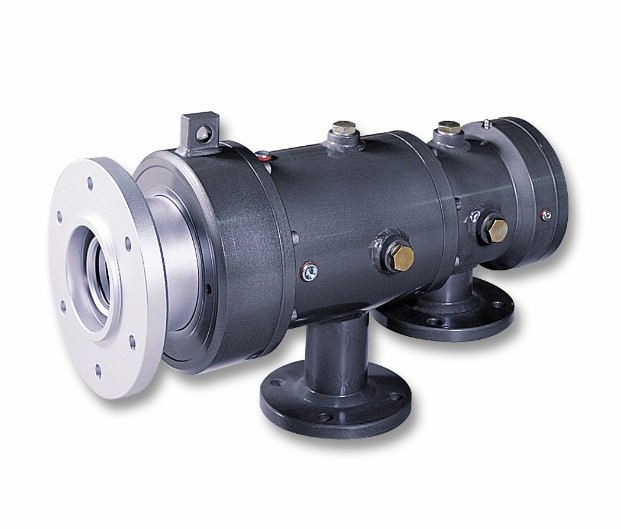 High-Speed Heat Transfer
Increasing speed and heat requirements in the paper, plastics and textile industries prompted Deublin to develop a novel rotating union for thermal oil applications. A patented combination of spherical and flat seals and hydrodynamic bearing provides significant gains in operating temperature and RPM.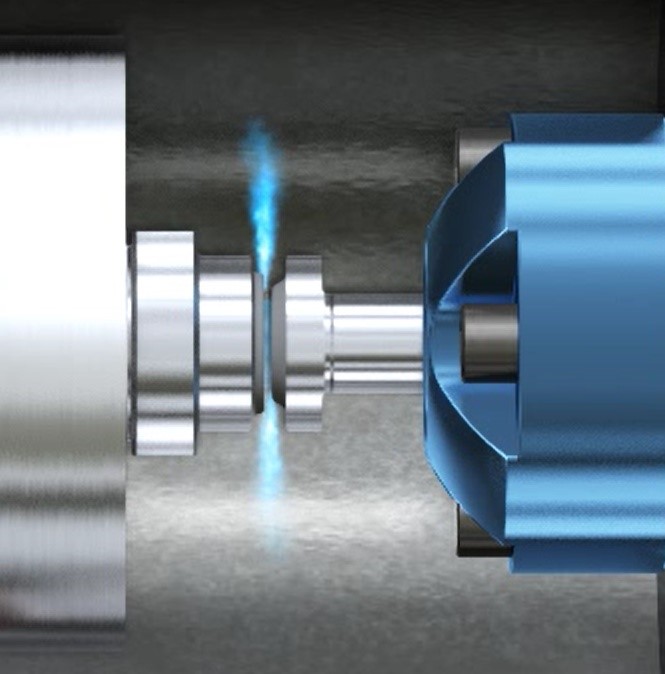 AutoSense®
Being able to handle lubricating media (such as oil or coolant) as well as non-lubricating media (such as pressurized dry air or inert gases) helps maximize the flexibility of a machining center. Previous attempts to solve this sealing requirement depended on additional control and check valves. Deublin's AutoSense® technology provides a unique, drop-in solution that does not require such added complexity. AutoSense® seals automatically sense and adapt to the type of media. AutoSense® unions close with lubricating media, create a non-contacting micro-gap with non-lubricating media, and open when no media is present.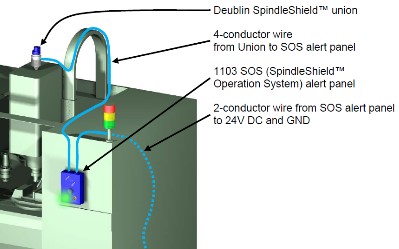 SpindleShield®
Seals eventually wear over time, regardless of technology or materials. When a rotating union is deep inside a machine, it can be difficult for maintenance personnel to observe this wear in time to avoid leakage into other parts of the machine. Deublin's patented SpindleShield technology is integrated into the rotating union, in a way that is independent of union orientation and that alerts the operator without any chance of "false positives".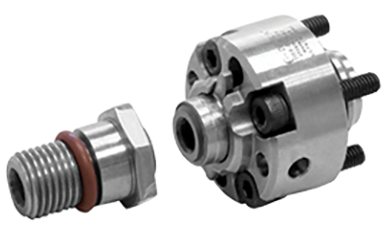 CoolControl®
Building on Deublin's patented AutoSense® technology, CoolControl® provides the additional advantage of allowing the seals to stay tightly engaged during the tool change cycle of a machining center, so that any coolant remaining in the line will drain out through the spindle.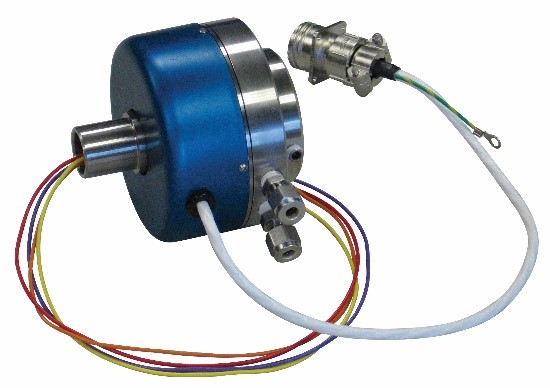 Integrated Slip Ring Solutions
Deublin offers fully integrated solutions to convey fluid media as well as electrical power, analog signals, and data. Deublin's bespoke designs use a variety of transmission technologies, from conventional sliding contacts to contactless arrangements for high data throughput.